| | |
| --- | --- |
| | |



CHILD SOLDIERS Exhibition 2010

日  程
:
1月4日(月)から1月16日(土) 9時〜19時
場  所
:
汐留メディアタワー3階 ギャラリーウオーク
(新交通ゆりかもめ汐留駅改札口左手すぐそば)
 
 
会期中無休 入場無料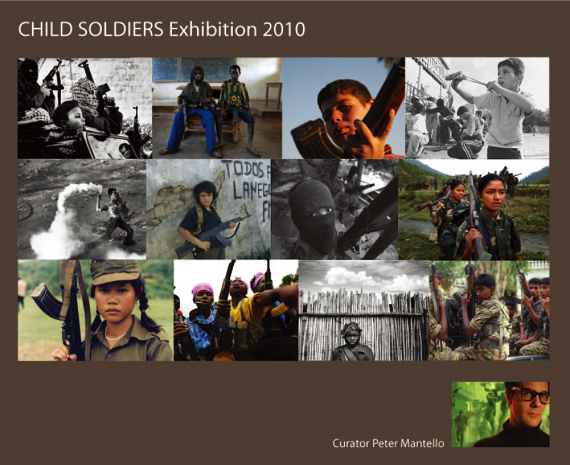 Exhibition Synopsis



War and weapons are some of the most common photographs seen today. Yet they are not the ones saved to our hard-drives, or decorating the walls of our homes. Mostly, they appear in the more popular viral fashion, as the image fodder of digital media, TV news and film. Of these, a carefully selected few are filtered into the archives of society to serve as footnotes of the past in the manufacture of histories.

The juxtaposition of child and gun is the most ironic of all image combinations. Traditionally, the child has been universally coded as a symbol of innocence, hope and future, while the gun serves as a notorious icon of violence, death and destruction. The unlikely union of these two opposites pokes the eternal riddle of mankind's true nature: how can we create the greatest good as well as perpetrate the greatest evil?

It is in this contradiction that provokes the main theme of this exhibition. Traversing four major regions of the globe, the eighty-five child soldier photographs of this show explores not only how innocence is so easily corrupted, but how our societies perpetuate the never-ending cycle of violence.

Sadly, the future has no cure for the past. Many of the children photographed in this exhibition have perished in struggles long now finished. Thus, what is most important in viewing this collection is to try to understand the way in which these images communicate to us, mindful of how our own cultural vantage point affects the way in which we read them.

Curator's Biography



Peter Mantello is a lecturer, filmmaker, writer and founder of the Center for Advanced Media Arts Studies (CAMAS) at Ritsumeikan Asia Pacific University in Beppu, Kyushu, Japan.

>From 1989 to 1996, he covered the civil war in Burma, living for various periods inside the Karen rebel controlled areas as well as along the Thai-Burmese border. His photographs can be found in the United Nations Gallery in New York, the Bundekunsthalle Museum in Bonn and the Powerhouse Gallery in New York or in the recent book Child Soldiers, edited by Leora Khan. A recipient of numerous senior artist grants and awards from both the Canada Arts Council and Conseil des Arts et des Lettres du Quebec, the majority of his photography, films and writings focuses on the thin membrane between reality and fiction, the literal and the literary, actual histories and synthetic ones.